---
JOURNAL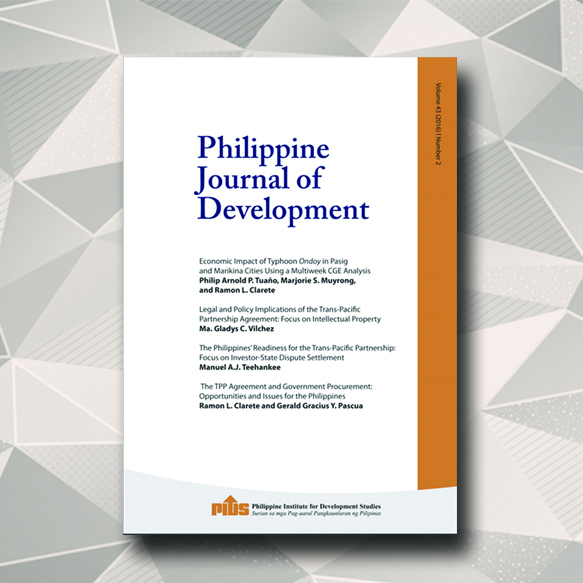 Philippine Journal of Development 2016,
Volume 43, No. 2
by Various Authors
The second semester issue of the Philippine Journal of Development features articles on Typhoon Ondoy and the Trans-Pacific Partnership (TPP) agreement. The first article estimates the economic impact of Typhoon Ondoy in the cities of Pasig and Marikina, based on the business sector's perceptions on their periods of adjustment in the aftermath of the disaster. Three articles, meanwhile, analyze the Philippines' readiness to join the TPP and other new-generation free trade agreements, focusing on policy implications on three significant aspects: (1) intellectual property, (2) government procurement, and (3) investor-state dispute settlement. Click here for the electronic copy of the journal.
POLICY NOTES
PN 2018-02: Administrative Legislation in the Philippine Contractors' Industry
by Lai-Lynn A.B. Barcenas
Despite the country's efforts to open its markets and promote greater productivity and market efficiency, firms in the contractors' industry continue to face challenges that hamper their entry into the Philippine market. Among these challenges is the foreign equity limitation, which, despite the absence of justifications under existing laws, remains in the legislations and creates an environment of unpredictability in the interpretation of the Philippine laws. This Policy Note recommends the amendment of the implementing rules and regulations of the Contractors' License Law, as amended, and Board Resolution No. 605-2011 of the Philippine Contractors Accreditation Board, which advance the said limitation within the Philippine contractors' industry. The study asserts that the abovementioned regulations are only a result of administrative legislation, which is unconstitutional and invalid. Click here to download the paper.
PN 2018-01: Regulatory Challenges in the Philippine Logistics Industry
by Jose L. Tongzon
According to the World Bank, the Philippine logistics sector currently has a low logistics performance index (LPI). The organization imputed this weak performance to the country's inadequate infrastructure, inefficient customs, and poor competency of its logistics providers. This Policy Note assesses the local logistics sector by looking at its LPI. Among others, it finds the current centralized administration of Philippine ports problematic because it stifles interport competition. As such, it recommends the separation of the regulatory and operational functions and the establishment of one separate entity in-charge solely of port regulation. It also encourages the government to improve competition among ports by allowing more private sector participation by way of concessions through build-operate-transfer or lease agreements. Click here to download the paper.
DISCUSSION PAPER
DP 2018-03: The Structure of Origin-Based Social Network and Its Influence on Migration Diffusion: The Case of a Migrant-Sending Village in the Philippines
by Aubrey D. Tabuga
While economic forces drive much of international migration, social factors are known to significantly facilitate movement. By providing information and other resources, networks reduce the cost and risk associated with international migration. The influence of migration networks, however, remains a black box that needs to be unpacked simply because these have been treated in the past mostly as unidimensional. In reality, however, networks do not only vary in type but also have structures. This study seeks to examine the structure of migration networks in a migrant-sending village in the Philippines. It also aims to relate this structure to the diffusion of migration behavior in the village over time through a socio-historical lens--an unconventional approach in the analysis of international migration perpetuation. Results show that the density of the kinship and friendship ties and the network position of pioneer migrants in the village affect the current distribution of migration behavior in the area. Click here to download the paper.
DP 2018-02: A Probe into the Filipino Migration Culture: What Is There to Learn
for Policy Intervention?
by Aubrey D. Tabuga
For many migrant workers, labor migration is not just a one-time, temporary means of livelihood, it has become the way of life. Among the 1.4 million land-based migrants in 2015, two-thirds comprise of re-hires. The number of new hires has been increasing as well. In fact, migrant deployment shows a continuous upward trend except during periods of crises and tight government control. From a public policy standpoint, this requires constant vigilance and informed decisionmaking with regard to designing policies and programs that look after the welfare of migrant workers. Some argue that while the government administers the deployment and implements strategies to promote the welfare of migrant workers, it also needs to design a more comprehensive long-term thrust for labor migration. The non-negligible number of cases of abuse, maltreatment, and crimes committed against Filipino migrant workers calls for a more defined policy that is less dependent on labor migration and more toward developing local job opportunities. This paper provides a deeper understanding of the migration motivations and intentions of Filipinos from a high-emigration rural village in the Philippines and some policy recommendations to address migration issues in this paper. Click here to download the paper.
April 10, 2018, 9:30AM–3:00PM
2018 High-Level Policy Dialogue on Meeting the 2030 Global Agenda Pledge to Leave No One Behind in the Philippines
Venue: PIDS Conference Room, 18th Floor, Three Cyberpod Centris - North Tower, EDSA corner Quezon Avenue, Quezon City
May 3, 2018, 9:00AM–12:00PM
Public Seminar on Economic Growth and Poverty Reduction
Venue: PIDS Conference Room, 18th Floor, Three Cyberpod Centris - North Tower, EDSA corner Quezon Avenue, Quezon City
------------------------------------------
The Philippine Journal of Development is a professional journal published by the Philippine Institute for Development Studies. It accepts papers that examine key issues in development and have strong relevance to policy development. As a multidisciplinary social science journal, it accepts papers in the fields of economics, political science, public administration, sociology, and other related disciplines. It considers papers that have strong policy implications on national or international concerns, particularly development issues in the Asia-Pacific region.
CLICK HERE for the guidelines in the preparation of articles. Submissions and inquiries may be sent to PJD@mail.pids.gov.ph.
---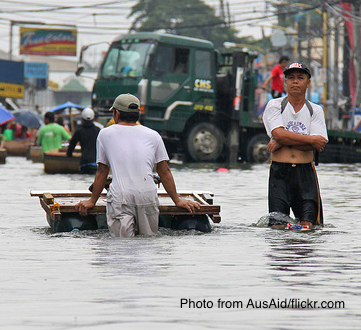 PIDS to gov't: Make social protection programs more adaptive
to climate change, disasters
With the Philippines' vulnerability to disasters, the government should make social protection programs adaptive to climate change and disasters.

According to a study published by state think tank Philippine Institute for Development Studies (PIDS), there is a need to unify the country's social protection, climate change adaptation, and disaster risk reduction efforts.

This, according to authors Connie Bayudan-Dacuycuy and Lora Kryz Baje, PIDS senior research fellow and research analyst, respectively, is because climate change and natural disasters can undermine the social protection programs of the government. READ MORE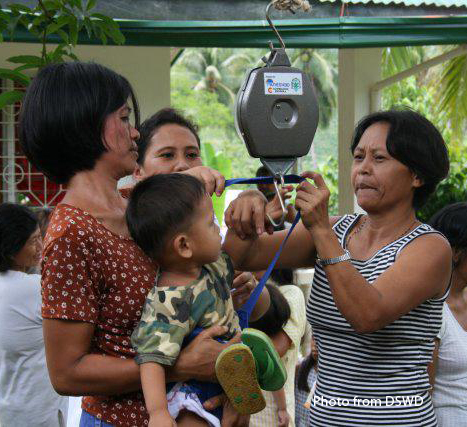 PH's health insurance programs benefit poor Filipino children – PIDS study
Filipino children from poor households who are part of the government's health insurance program have increased access to health care, both for preventive and curative care.
A recent study published by state think tank Philippine Institute for Development Studies (PIDS) recognized the role that the Pantawid Pamilyang Pilipino Program (4Ps) has played in this positive impact. The 4Ps automatically enrolls beneficiaries to the country's social health insurance program and requires preventive check-ups for children aged 0 to 5 years. READ MORE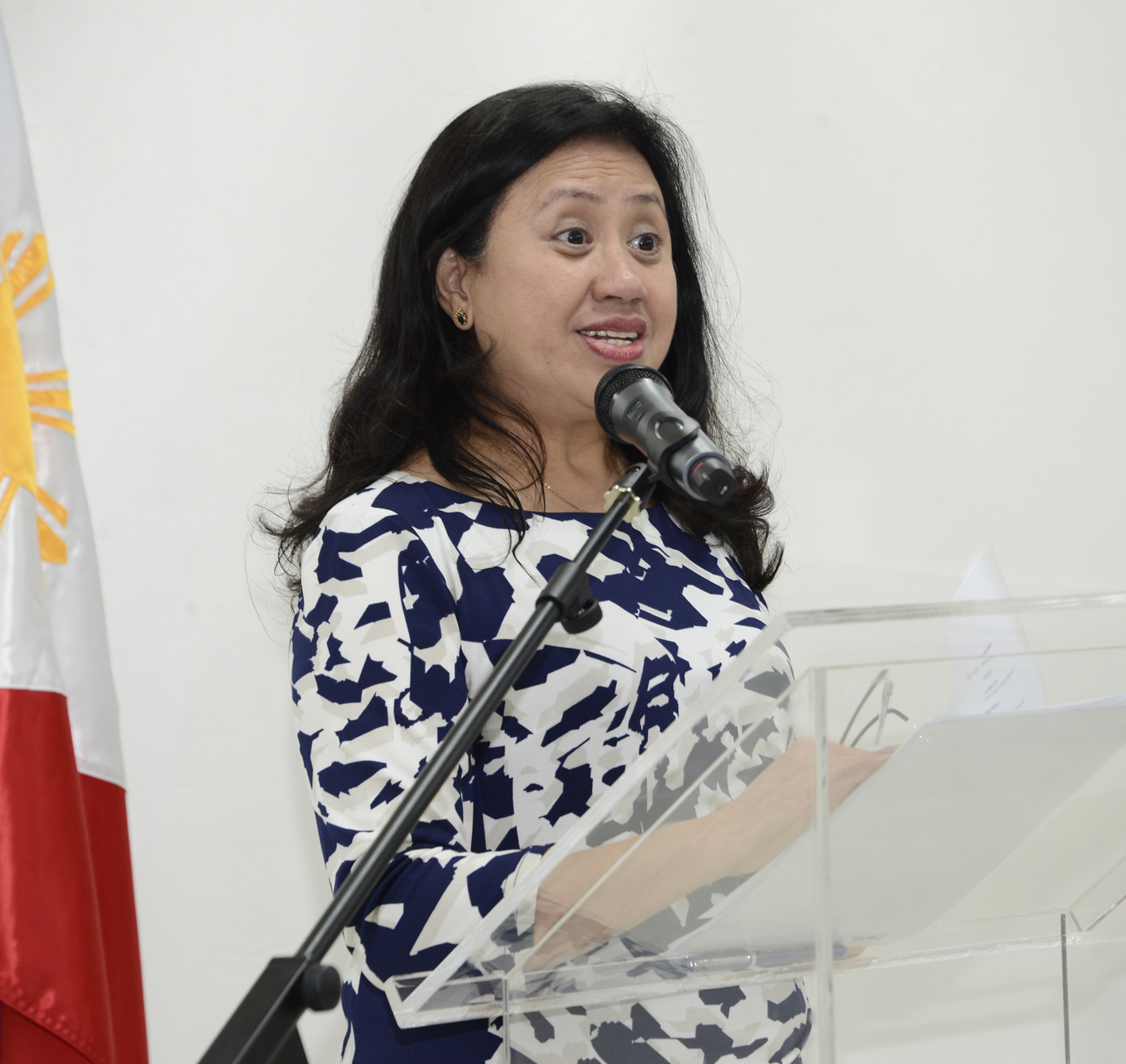 Think tank's first female president urges advocates to step up efforts
on gender equality
With the Philippines continuously dropping from its rank as one of the most gender-equal countries in the world over the last two years, Dr. Celia Reyes, new president and first female head of state think tank Philippine Institute for Development Studies (PIDS), urged advocates and stakeholders alike to step up efforts on gender equality and regain the country's status.
Citing the latest Global Gender Gap Report of the World Economic Forum during "Making Change Work for Women: A Policy Dialogue" organized by the Institute, Reyes said the Philippines has slid from 7th place in 2016 to the 10th spot last year.
READ MORE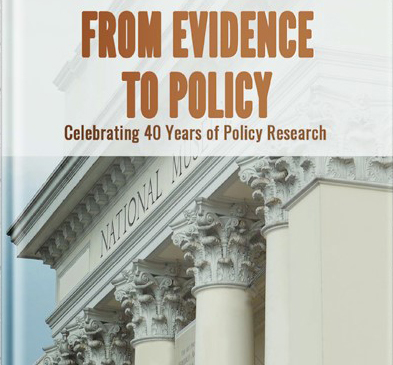 PIDS hopes to inspire next-generation policy researchers in new book
In celebration of its 40th anniversary, state think tank Philippine Institute for Development Studies (PIDS) looked back on its struggles and achievements that paved the way for its current success and recognition as one of the top think tanks in the world.
Its new book titled From Evidence to Policy: Celebrating 40 Years of Policy Research compiles essays showing the rich history of the Institute. Written by its veterans, each essay takes the readers on a trip down memory lane as it narrates the beginnings, challenges, and lessons of the Institute and its personnel. READ MORE
---
POLICY ISSUE AT A GLANCE
Is There Equal Opportunity for Leadership? (Filipino Women in Government)
Target 5.5. of the United Nations Sustainable Development Goals seeks to achieve full and effective participation and equal opportunities for leadership at all levels of decisionmaking. In the Philippines, however, latest data show women remain sorely underrepresented in the highest positions in government.
This infographic is based on PIDS Discussion Paper No. 2017-45 titled "Sustainable Development Goal 5: How Does the Philippines Fare on Gender Equality?" written by Clarissa C. David, Jose Ramon G. Albert, and Jana Flor V. Vizmanos, PIDS consultant, senior research fellow, and research assistant, respectively.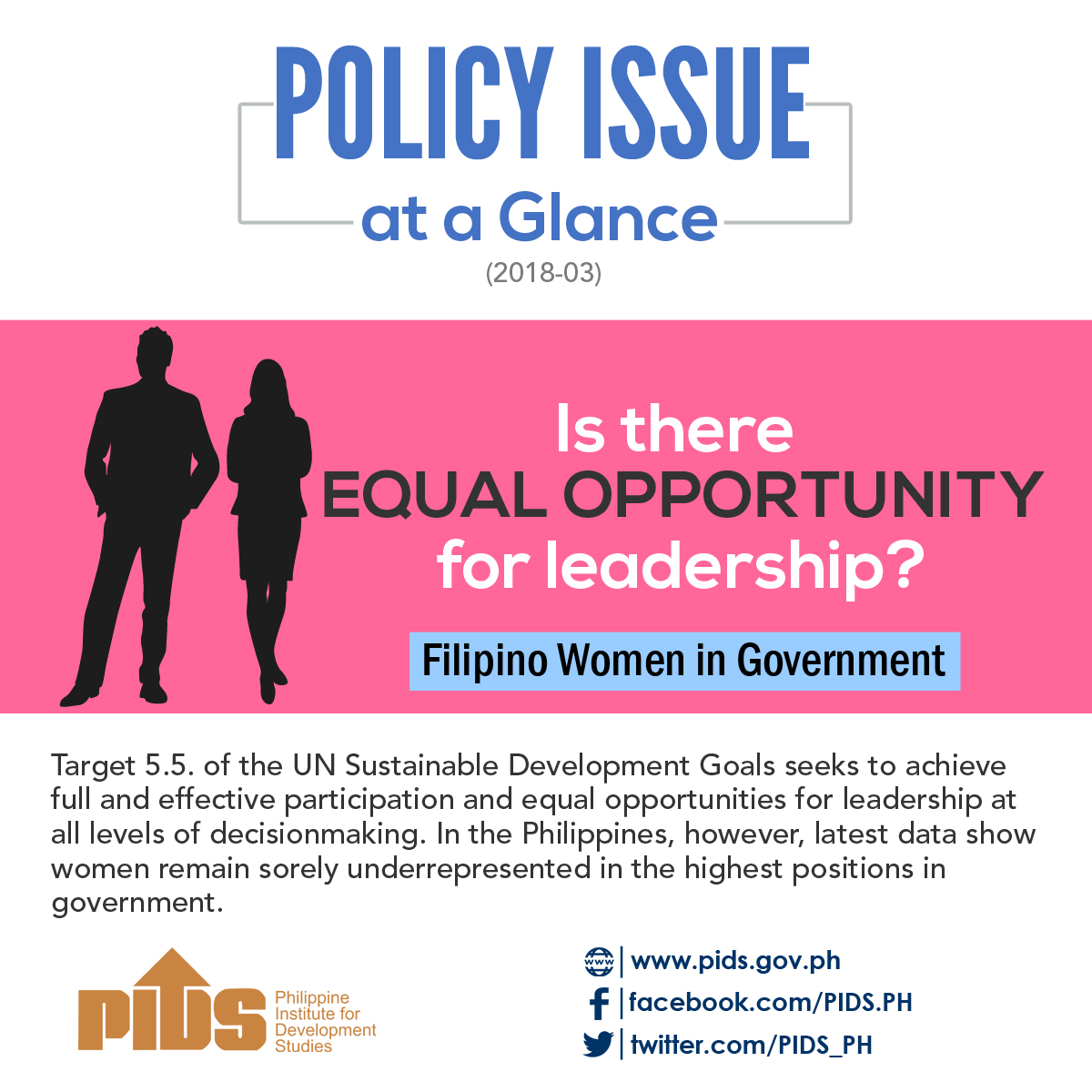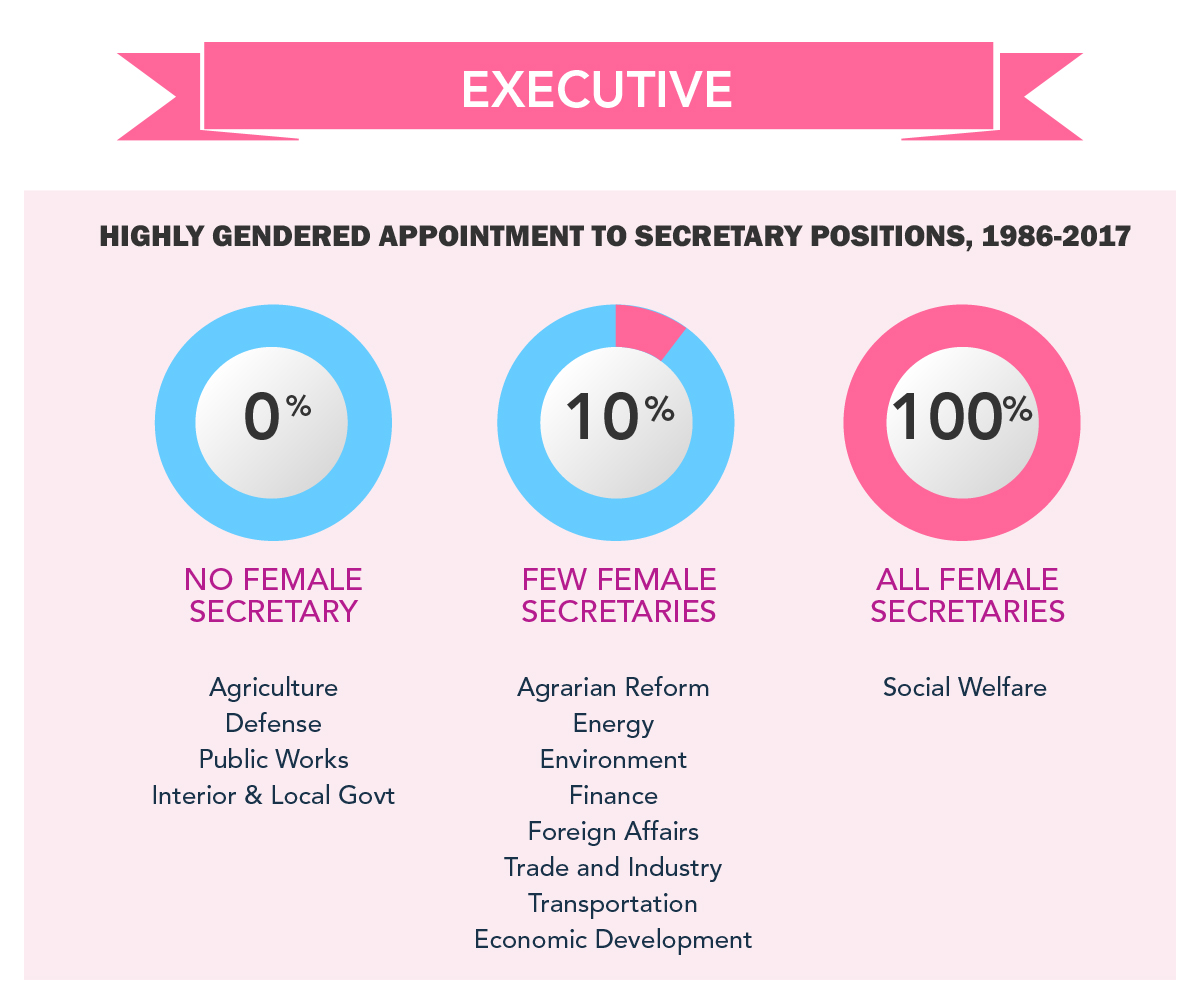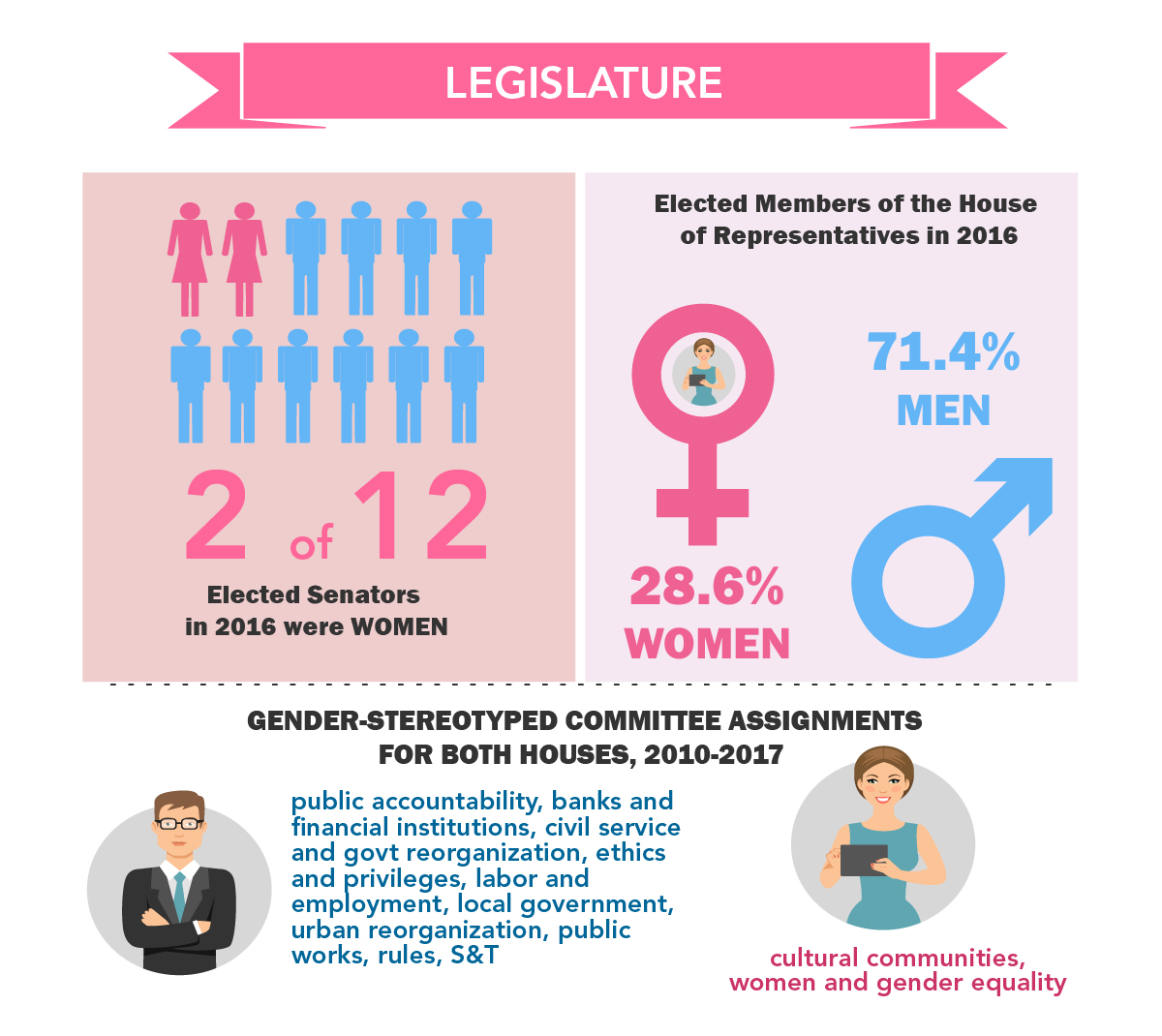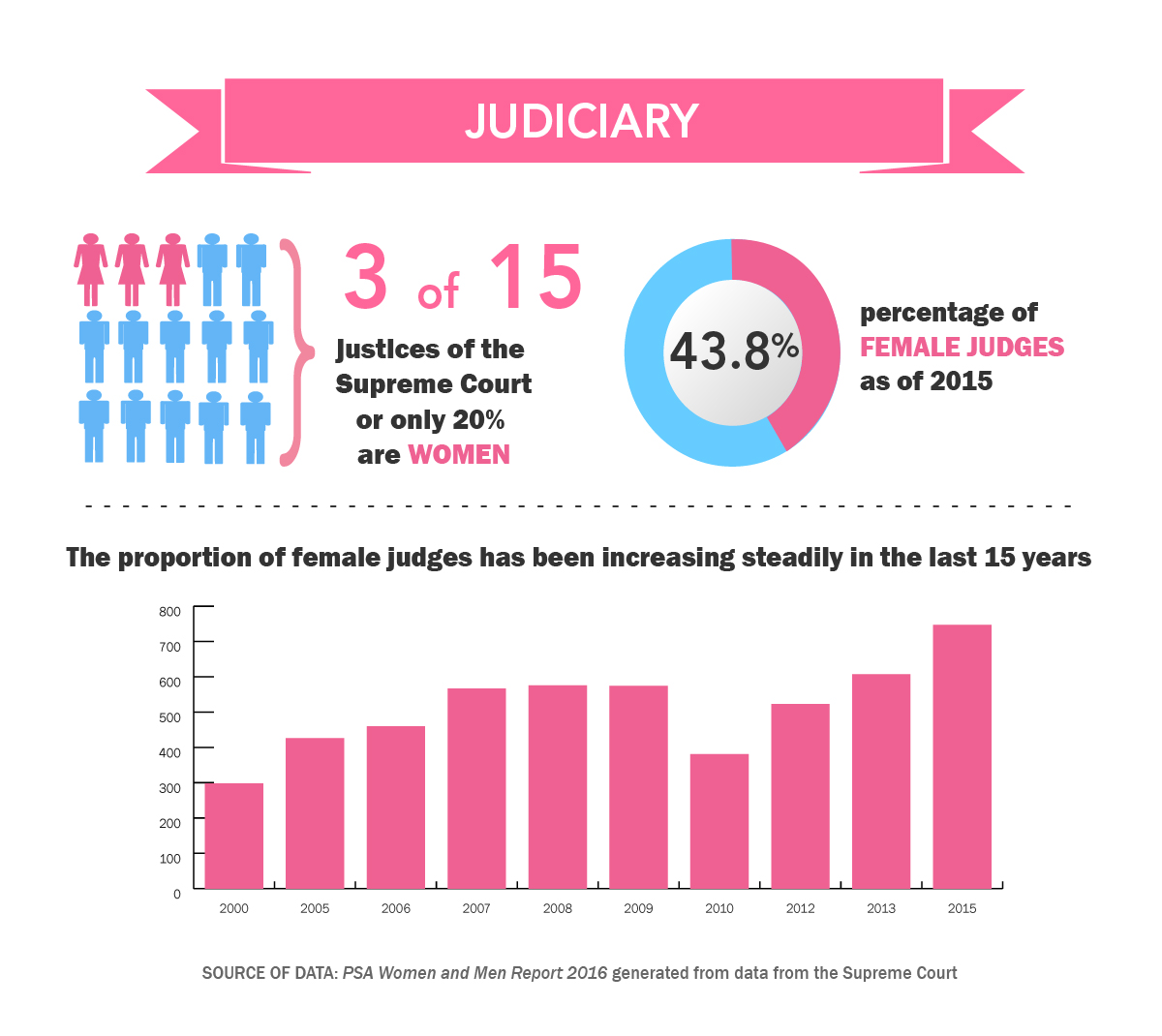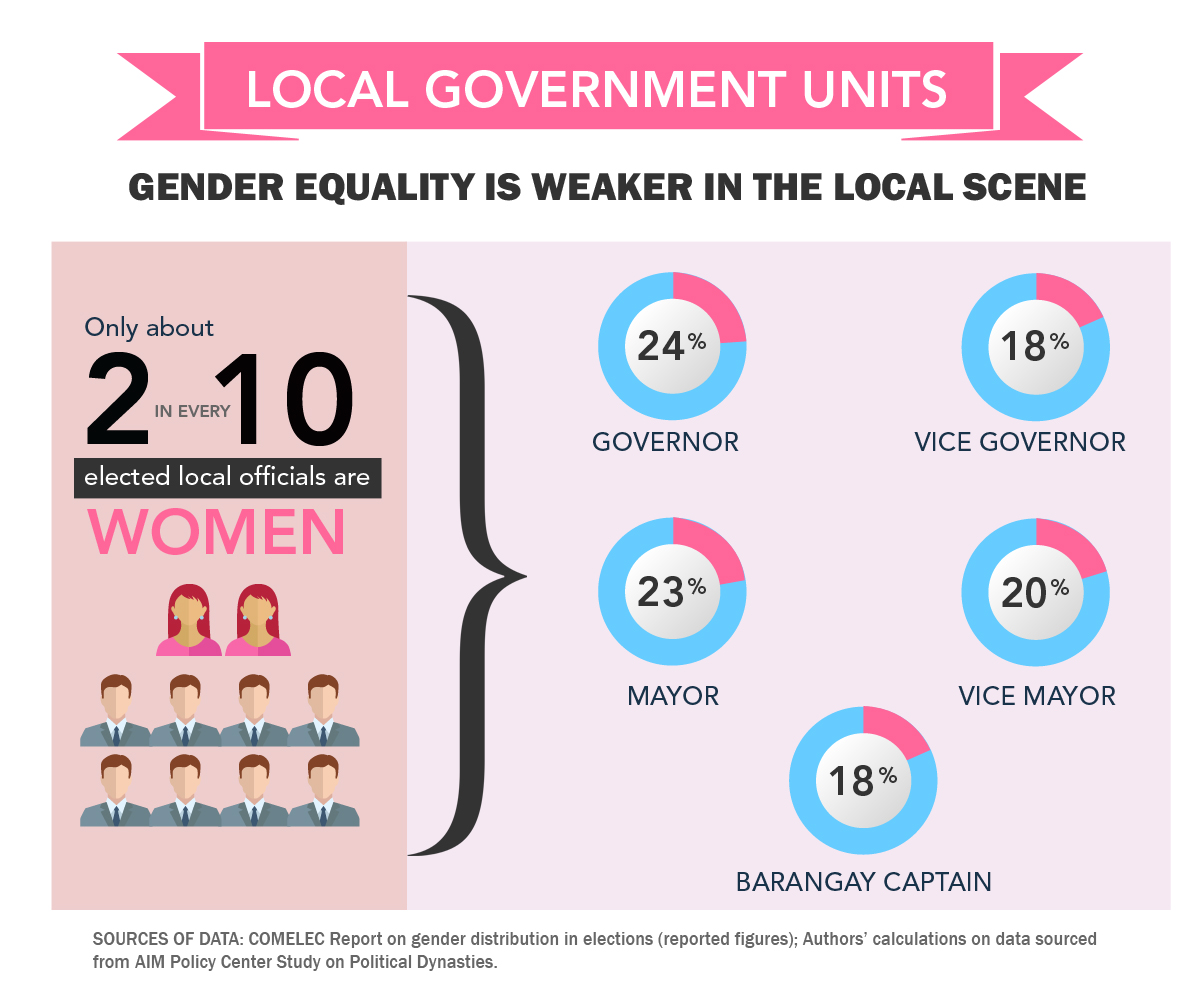 To view in actual size, visit the PIDS website or the PIDS Facebook page.
FACT FRIDAY
According to a PIDS study, women living in poverty in the Philippines are more vulnerable to sexually transmitted diseases (STDs) such as HIV/AIDS than those from rich households. This is due to their low level of awareness on STDs. PIDS urges the government to improve young women's access to reproductive health information through sex education programs and the use of social and mainstream media. The study finds that increasing their knowledge on STDs can prevent the spread of diseases and help the government save as much as PHP 25 million a year.
This is based on the PIDS discussion paper titled "HIV/AIDS Knowledge and Sexual Behavior of Female Young Adults in the Philippines".
Watch the latest #PIDSFactFriday video below.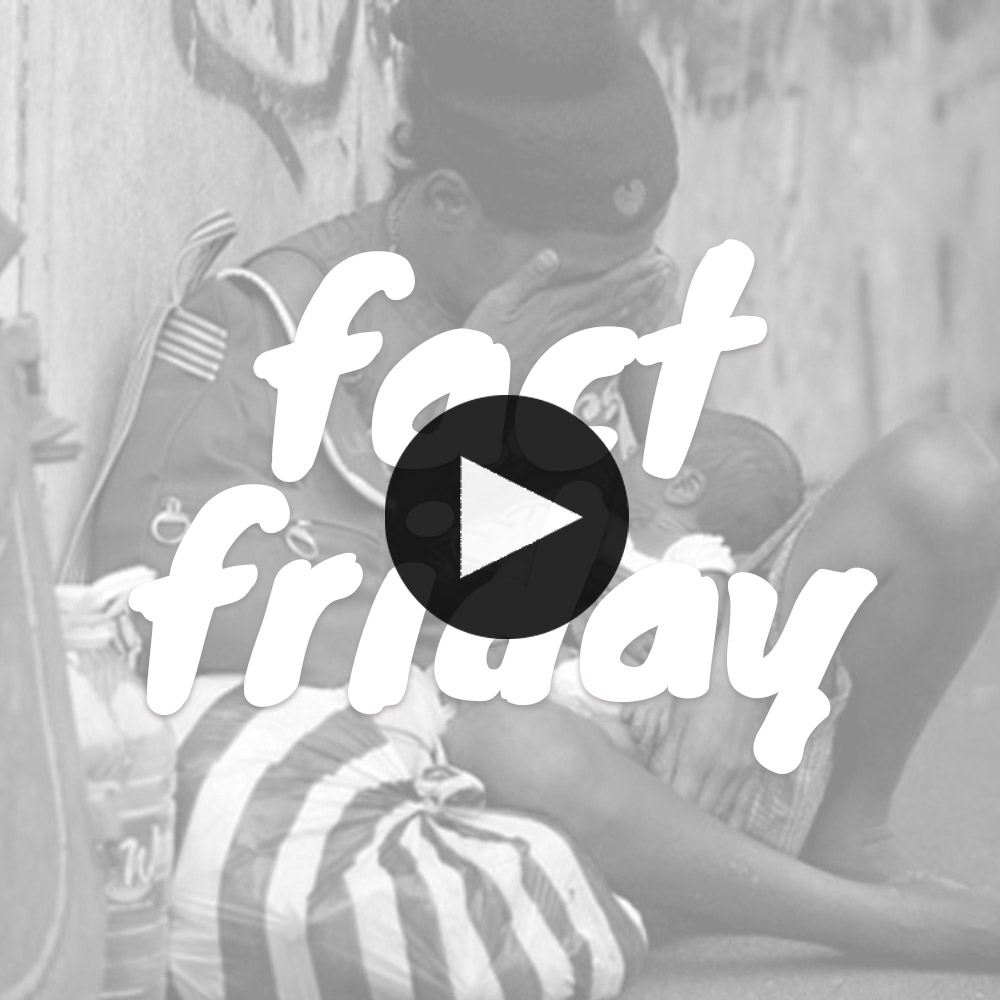 Like us on Facebook for more videos.
---