POLICY NOTES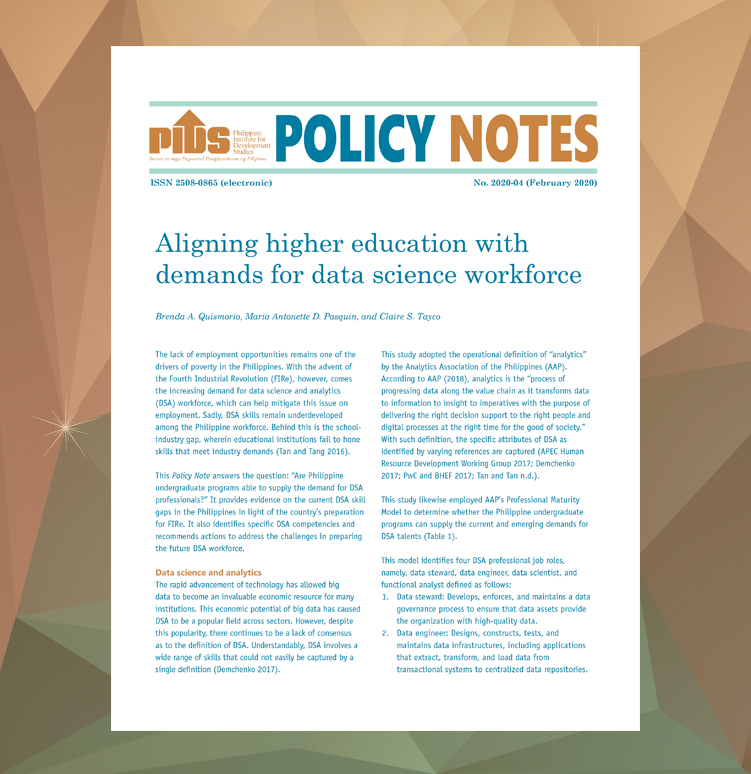 PN 2020-04: Aligning Higher Education with Demands for Data Science Workforce
by Brenda A. Quismorio, Maria Antonette D. Pasquin, and Claire S. Tayco
Amid the Fourth Industrial Revolution (FIRe), there has been an increasing demand for data science and analytics (DSA) workforce in the Philippines. Sadly, DSA skills remain underdeveloped among the Philippine workforce. This Policy Note provides evidence on the current DSA skills gaps in the Philippines in light of the country's preparation for FIRe. Among others, it finds a scarcity of DSA competencies in the current workforce and a misalignment between the demand and supply of DSA workforce in the country. To address these issues, the study urges the government to adopt a framework to define the practice of DSA in the country. It also recommends the promotion of government-industry-academe linkages. These three actors can work together in establishing standards for degree programs in DSA or updating DSA-related degree programs. Government agencies can also make use of the industry's DSA job requirements in consolidating their efforts to effectively manage the supply and demand for these talents. Click here to download the policy note.
PN 2020-03: Why and How Should We Value Unpaid Work?
by Connie B. Dacuycuy
This Policy Note discusses why housework is a social issue and why and how it should be recognized and valued. The study finds that although housework is a choice that is decided within the household, it has important implications on human capital accumulation. Women tend to be more affected by market work interruptions caused by housework than men given their child-bearing and child-nurturing roles. The study recommends the crafting of policies and programs that can achieve the goals of empowering men and women through economic independence and help them perform their productive and reproductive roles. Specifically, it suggests to broaden opportunities for both men and women who opt out of the market work by enhancing work from home opportunities and explore granting of incentives to working couples by making a portion of child care receipts deductible from the couple's income. It also highlights the need to improve public services that have direct and indirect consequences on unpaid work, such as having good and reliable child-care services that coincide with the eight-hour office schedule to encourage mothers to go back to work after childbirth. Further, the study recommends reforming the workplace to achieve work-life balance by legislating laws along the lines of flexi-time and the expanded maternity/paternity benefits. Lastly, the study advocates to strengthen public awareness on the value of unpaid work through information campaigns. Click here to download the policy note.
PN 2020-02: Assessing the Philippine Irrigation Development Program
by Guillermo Q. Tabios III and Tomas Z. de Leon
This Policy Note assesses the Angat-Maasim River Irrigation System (AMRIS) and the Pampanga Delta River Irrigation System (PADRIS) and evaluates the factors behind their inability to attain their designed service areas. Among others, it finds that the reduction of their irrigation service area is due to urbanization and flooding problems, as well as technical issues. For instance, a significant portion of the agricultural land in these areas was already converted to industrial or residential developments. With regard to flooding problems, both AMRIS and PADRIS have low-lying areas in their lower ends, being in the vicinity of the Pampanga Delta. To mitigate the impact of these issues on the irrigation systems, the study urges to revisit cropping schedules to maximize use of watershed streamflow and minimize its competing use with Metro Manila's water supply demand. The study likewise suggests for the government to design the canal maintenance with dredging or rehabilitation to optimally satisfy both the slope and canal width and depth, including alignment requirements. Further, periodic assessment of the efficiency of irrigation water delivery operations should be conducted for proper maintenance and upgrade irrigation facility. Click here to download the policy note.
March 5, 2020, 1–4PM
Seminar on Asia's Journey to Prosperity: Policy, Market, and Technology over 50 Years
Venue: PIDS Conference Room, 18th Floor, Three Cyberpod
Centris - North Tower, EDSA
corner Quezon Avenue,
Quezon City
March 9, 2020, 1–5PM
Book Launch: Outside Looking In: Gendered Perspectives in Work
and Education
Venue: Novotel, Cubao,
Quezon City
March 13, 2020, 8AM–2PM
Dissemination of Research Results of Baseline Studies in Local Planning and Budgeting (Legazpi City)
Venue: The Oriental Hotel,
Legazpi City
March 16, 2020, 8AM–2PM
Dissemination of Research Results of Baseline Studies
in Local Planning and Budgeting (Clark)
Venue: Quest Hotel, Clark
March 24, 2020, 1–5PM
Dissemination of Research Results of Baseline Studies in Local Planning and Budgeting (Tacloban City)
Venue: Tacloban City
March 26, 2020, 8AM–2PM
Dissemination of Research Results of Baseline Studies in Local Planning and Budgeting (Davao City)
Venue: Davao City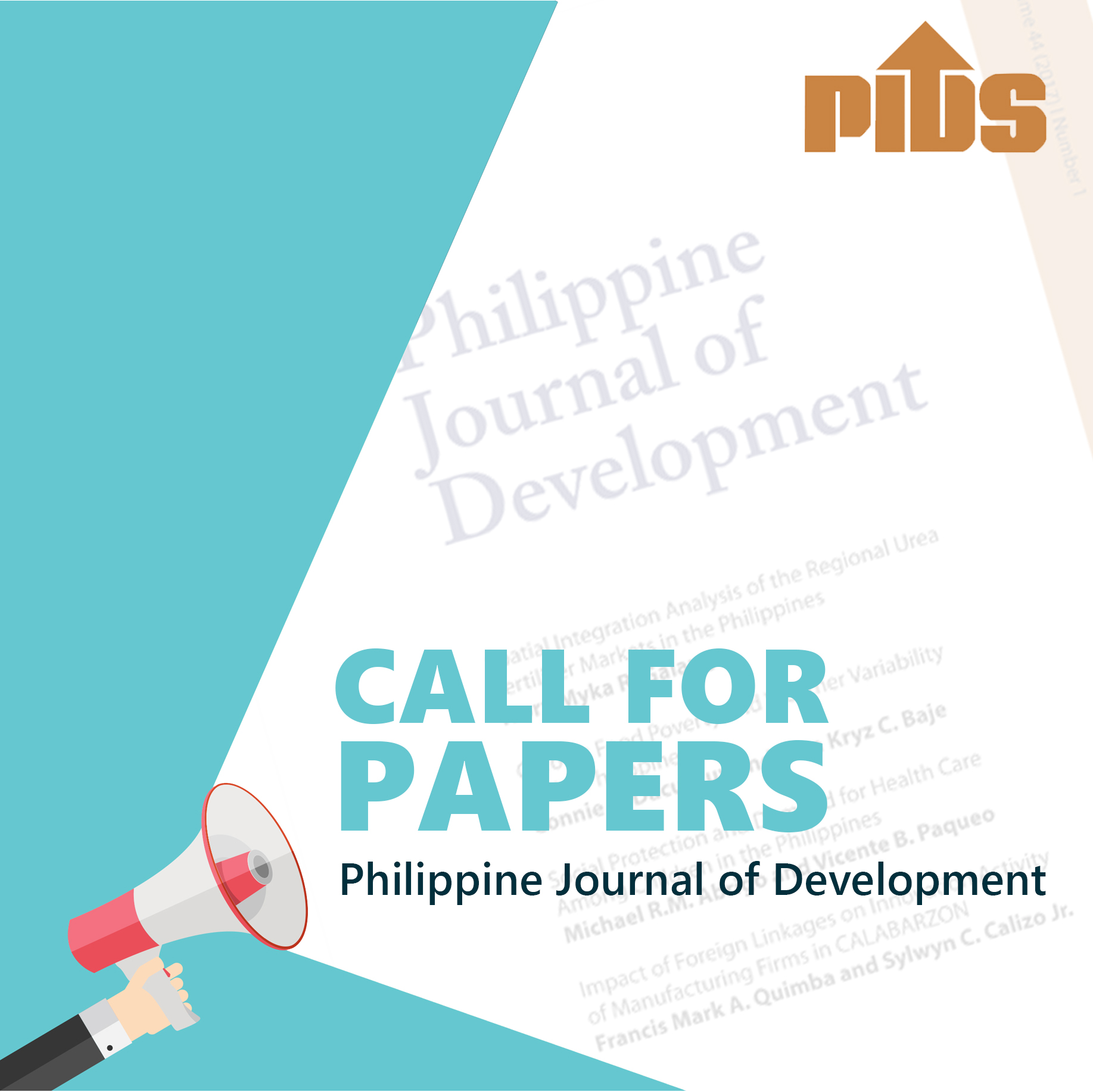 CLICK HERE for the guidelines in the preparation of articles. Submissions and inquiries may be sent to PJD@mail.pids.gov.ph.
---
POLICY ISSUE AT A GLANCE
How Is The Philippines Faring In SDG Achievement? (GOAL 8: Decent Work And Economic Growth)
Goal 8 of the United Nations (UN) Sustainable Development Goals (SDGs) aims to "promote sustained, inclusive and sustainable economic growth, full and productive employment and decent work for all". UN member-states, including the Philippines, committed to conduct regular and inclusive reviews of their progress at the national and subnational levels. This infographic aims to shed light on the progress the country is making to achieve Goal 8 by showing data on some indicators. It also outlines the challenges and constraints it is facing and provides some recommendations.

This infographic is based on PIDS Discussion Paper Series No. 2019-10 titled The Philippines' Voluntary National Review on the Sustainable Development Goals written by Celia Reyes, Jose Ramon Albert, Aubrey Tabuga, Arkin Arboneda, Jana Flor Vizmanos, and Carlos Cabaero. The first author is president, the second author is senior research fellow, the third author is research fellow, the fourth and fifth authors are research specialists, and the sixth author is research analyst of PIDS.
To view in actual size, visit the PIDS website or the PIDS Facebook page.
FACT FRIDAY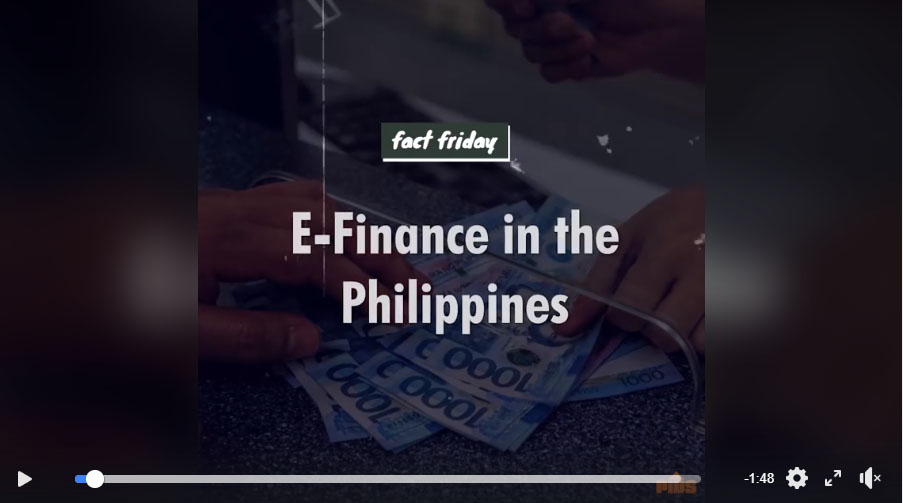 A PIDS study found that many Filipinos are still unbanked and unserved by formal financial services. Digital finance offers a promising solution to reach this segment of the population. Click the video to know more.

This video is based on the PIDS study titled E-Finance in the Philippines:
Status and Prospects for Digital Financial Inclusion written by Gilberto M. Llanto, Maureen Ane D. Rosellon, and Ma. Kristina P. Ortiz.


Like us on Facebook for more #PIDSFactFriday issues.
---