RESEARCH PAPER SERIES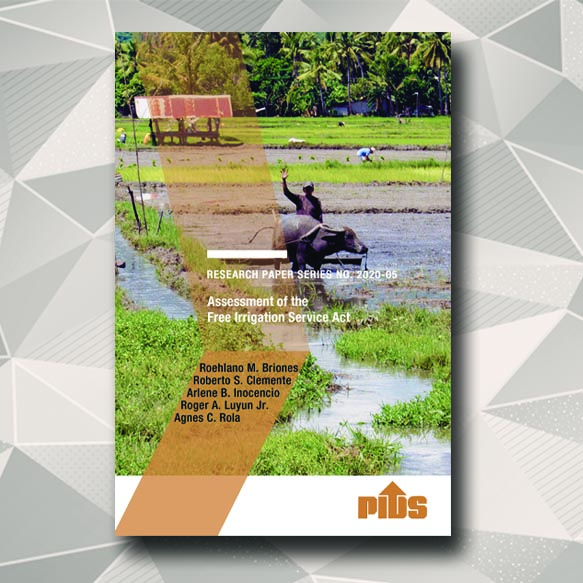 RPS 2020-05: Assessment of the Free Irrigation
Service Act
by Roehlano M. Briones, Roberto S. Clemente, Arlene B. Inocencio, Roger A. Luyun Jr., and Agnes C. Rola
This study is a preliminary assessment of the policy change brought by the Free Irrigation Service Act through an examination of secondary data and collection of primary information through key informant interviews and focus group discussions. The study found that free irrigation had the potential to benefit millions of individuals, although it only led to a small savings in palay production cost. Moreover, while palay farmers were poorer than the average household, most of them were not poor. The study urges the government to continue pursuing irrigation management transfer within the context of free irrigation based on minimum maintenance for the National Irrigation Administration (NIA) and transparent maintenance standards for both NIA and irrigators' associations. It also calls for a sustained and increasing subsidy for operations and maintenance, which must be made available only on a performance basis. The study advocates for the transformation of NIA into a service agency specializing in technical assistance, contract design, and performance monitoring. Click here to download the research paper.

POLICY NOTE

PN 2020-09: Are Marine-protected Areas Sheltered from Plastic Pollution?
by Maria Kristina O. Paler
The Philippines is one of the top three major contributors of plastic marine debris in the world. Despite this, microplastic pollution remains understudied in the Philippines. This Policy Note looks into microplastics as the culmination of larger plastics often used and discarded in the marine environment. It specifically focused on the Tañon Strait, the country's largest marine protected area located between Cebu and Negros Islands. The study found a relatively high microplastic occurrence in Tañon Strait. This proves that the Philippines has been contributing a substantial volume of plastic debris into the marine ecosystem. To address this, the study calls for proper waste disposal to mitigate the problem of plastic pollution. It also suggests that these pollutants are most likely generated from single-use plastic items, hence the need to shift from the current throw-away society. Click here to download the policy note.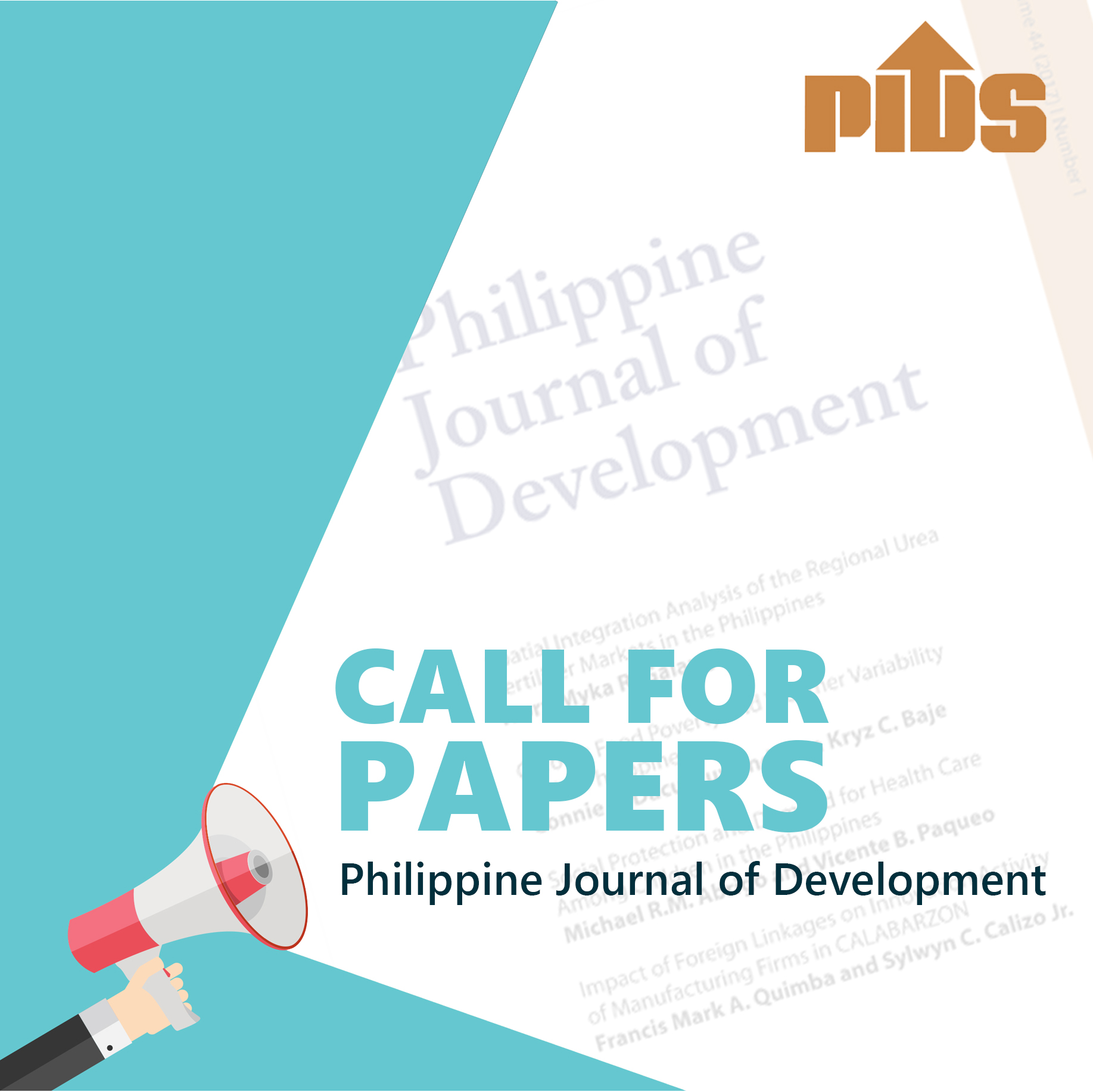 The Philippine Journal of Development is a professional journal published by the Philippine Institute for Development Studies. It accepts papers that examine key issues in development and have strong relevance to policy development. As a multidisciplinary social science journal, it accepts papers in the fields of economics, political science, public administration, sociology, and other related disciplines. It considers papers that have strong policy implications on national or international concerns, particularly development issues in the Asia-Pacific region.

CLICK HERE for the guidelines in the preparation of articles. Submissions and inquiries may be sent to PJD@mail.pids.gov.ph.
---
---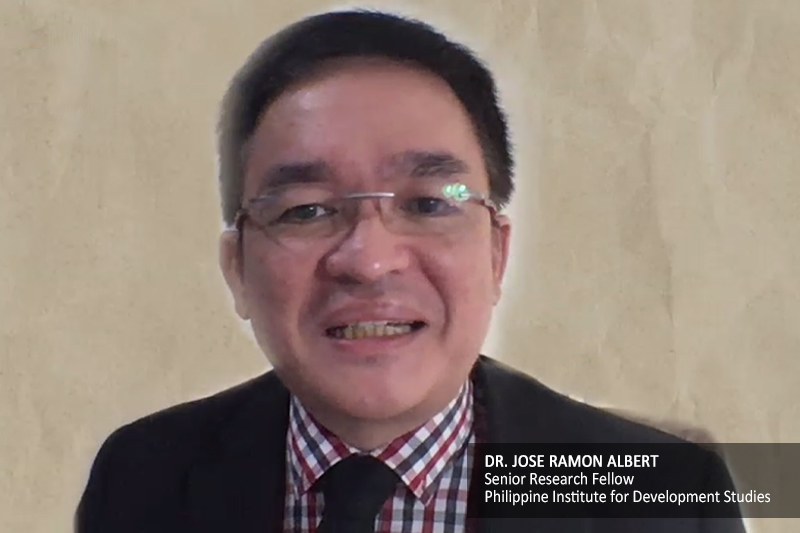 PIDS study pinpoints issues in the gov't's PBB program
Respondents of a study conducted by state think tank Philippine Institute for Development Studies (PIDS) have mixed opinions of the Performance-based Bonus (PBB), an incentive scheme in the public sector.

Senior Research Fellow Dr. Jose Ramon Albert said at a recent PIDS webinar that while most respondents believed that the PBB was able to meet its objectives, some agency representatives said otherwise.

Albert noted reports of the program's unintended consequences shared by the respondents, such as "jealousy over incentives received by others", "perception of arbitrariness in ratings", and "tendency to increase overtime" to fulfill numerous documentary requirements instead of "putting more efforts on performing their main tasks".  READ MORE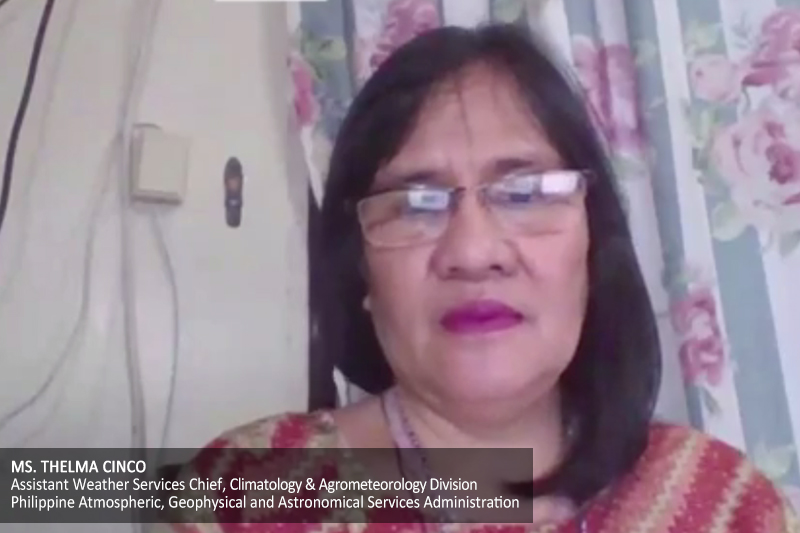 State weather bureau urged to address barriers in using weather and climate info

The Philippine Atmospheric, Geophysical, and Astronomical Services Administration (PAGASA) is urged to address barriers to access and utilization of its weather and climate information.
This, after various studies conducted by PIDS and its partner-institutions, found that farmers in Benguet face difficulties in using weather and climate information provided by the state weather bureau.

The studies showed that Benguet farmers encounter difficulties in obtaining raw climate data from PAGASA's website. READ MORE




Nat'l ID system can address delays in gov't aid distribution to beneficiaries--DSWD official

The Philippine Identification System or PhilSys can help address recurring delays in the distribution of government assistance to beneficiaries.

This is according to Assistant Secretary Joseline Niwane of the Department of Social Welfare and Development at a public webinar recently organized by the Philippine Institute for Development Studies (PIDS).

Niwane, who served as a discussant at the PIDS event, said that one of the major causes of delays in distributing government assistance like the Social Amelioration Program (SAP) is the lack of identification cards among many beneficiaries. READ MORE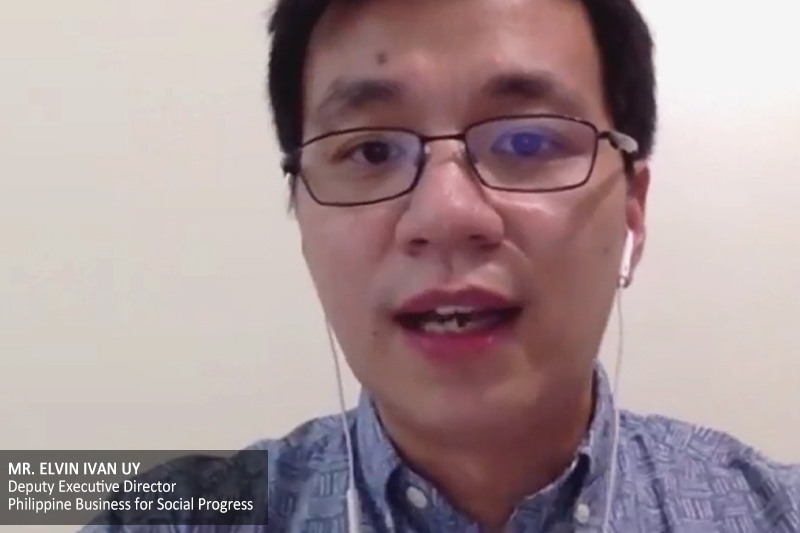 Deeper collab between gov't, CSOs urged as PH grapples with pandemic

The ongoing pandemic in the country calls for deeper collaboration between the government and civil society.

This is according to Philippine Business for Social Progress Deputy Executive Director Elvin Uy at a webinar organized by the Philippine Institute for Development Studies (PIDS) recently. The webinar presented the findings of a PIDS study that simulated the impacts of the COVID-19 pandemic on poverty and income distribution in the country.

As a country that prides itself on "having one of the most vibrant civil society and non-government sectors", Uy said the government must tap civil society to ensure that policies are backed by data and reflect the needs of the marginalized. READ MORE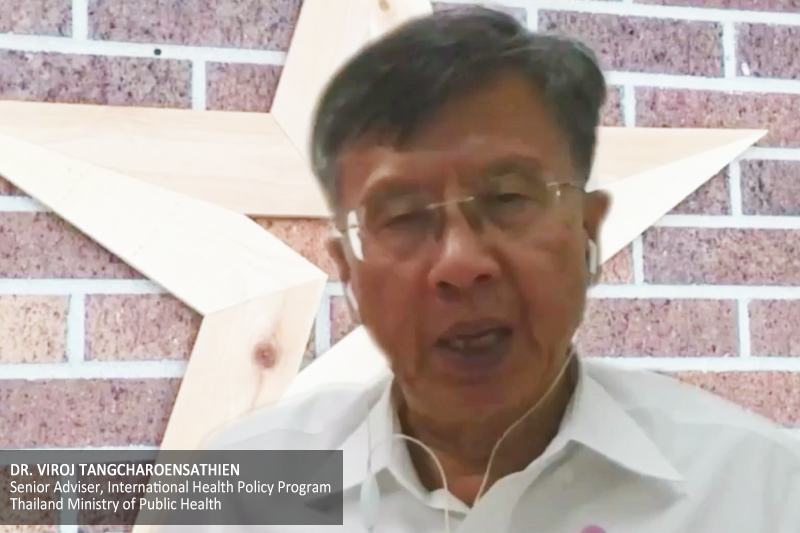 Thai health expert shares contributing factors to a country's effective COVID-19 response

Thailand is one of the countries with the most successful response to COVID-19. According to a Thai health expert, this can be attributed to three factors: early intervention, health system resilience, and effective governance.

Speaking at the Annual Public Policy Conference (APPC) organized by the Philippine Institute for Development Studies (PIDS), Viroj Tangcharoensathien, senior adviser to the International Health Policy Program of Thailand's Ministry of Public Health, highlighted their best practices that helped the country mitigate the impacts of the pandemic. READ MORE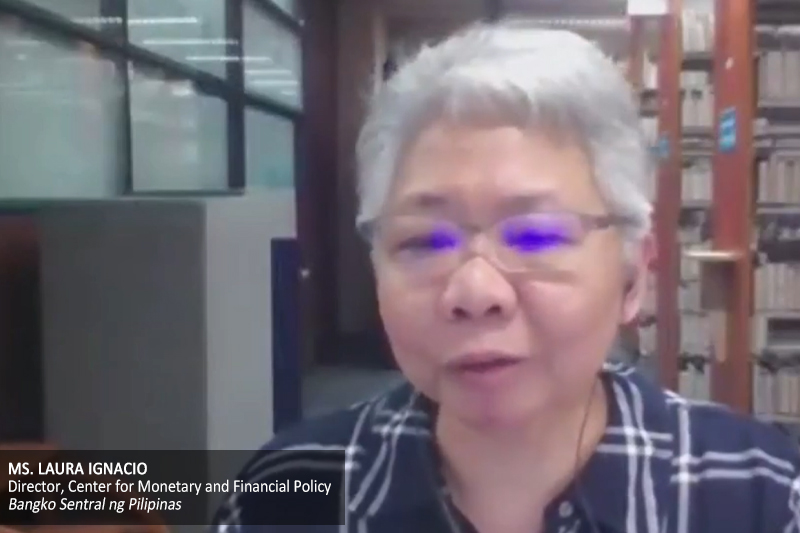 Fintech usage among Filipinos increases amid COVID-19 pandemic--BSP

The COVID-19 pandemic has increased the use of financial technology (Fintech) or "technology-enabled innovations in financial services and payments" in the country.

This is according to Laura Ignacio, director at the Center for Monetary and Financial Policy of the Bangko Sentral ng Pilipinas (BSP). Ignacio served as a panelist during the Annual Public Policy Conference (APPC) organized by the Philippine Institute for Development Studies (PIDS).

With community quarantine and other restrictions in place since March, Ignacio said the BSP noted a "growing preference for digital transactions" among Filipinos, "as these are seen as safer and convenient [ways] in making payments and transferring funds". READ MORE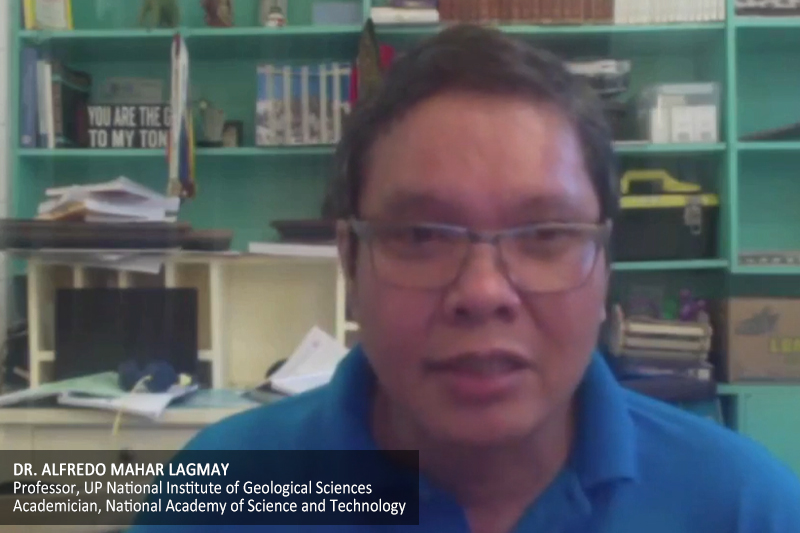 Integrate science-based info in local development plans, DRRM efforts--Filipino scientist

As the country faces more destructive typhoons, intense rains, and severe flash floods due to climate change, it is vital to integrate science-based information in the development plans of local government units (LGUs).

Dr. Alfredo Mahar Lagmay, executive director of the University of the Philippines Resilience Institute (UPRI), underscored this point in a webinar organized by state think tank Philippine Institute for Development Studies (PIDS) as part of this year's Annual Public Policy Conference (APPC).

According to Lagmay, the UPRI supports the Climate Change Commission (CCC) in training LGUs to formulate their local climate change action plans (LCCAP) and comprehensive land use and development plans through the use of low-cost technologies and smart systems. READ MORE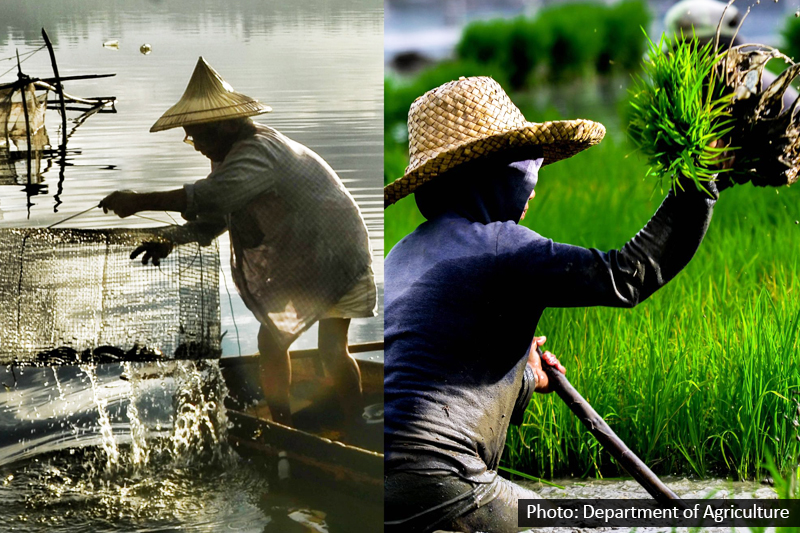 Localized weather and climate info, crucial for climate-resilient agri-fishery sector

The dissemination of localized agriculture-related weather forecasts and advisories serves as useful early warning tools for smallholder farmers and fisherfolk during disasters.

Perla Baltazar, a senior technical officer of the Department of Agriculture Climate-Resilient Agriculture Office (DA-CRAO), stressed this during the webinar conducted by the Philippine Institute for Development Studies (PIDS) titled "Weather and Climate Information Needs of Small Farmers: Challenges and Opportunities" recently.

According to Baltazar, the agriculture department is bent on mainstreaming climate change in its programs and activities as extreme weather conditions threaten the country's agriculture and fishery sector. READ MORE