BOOK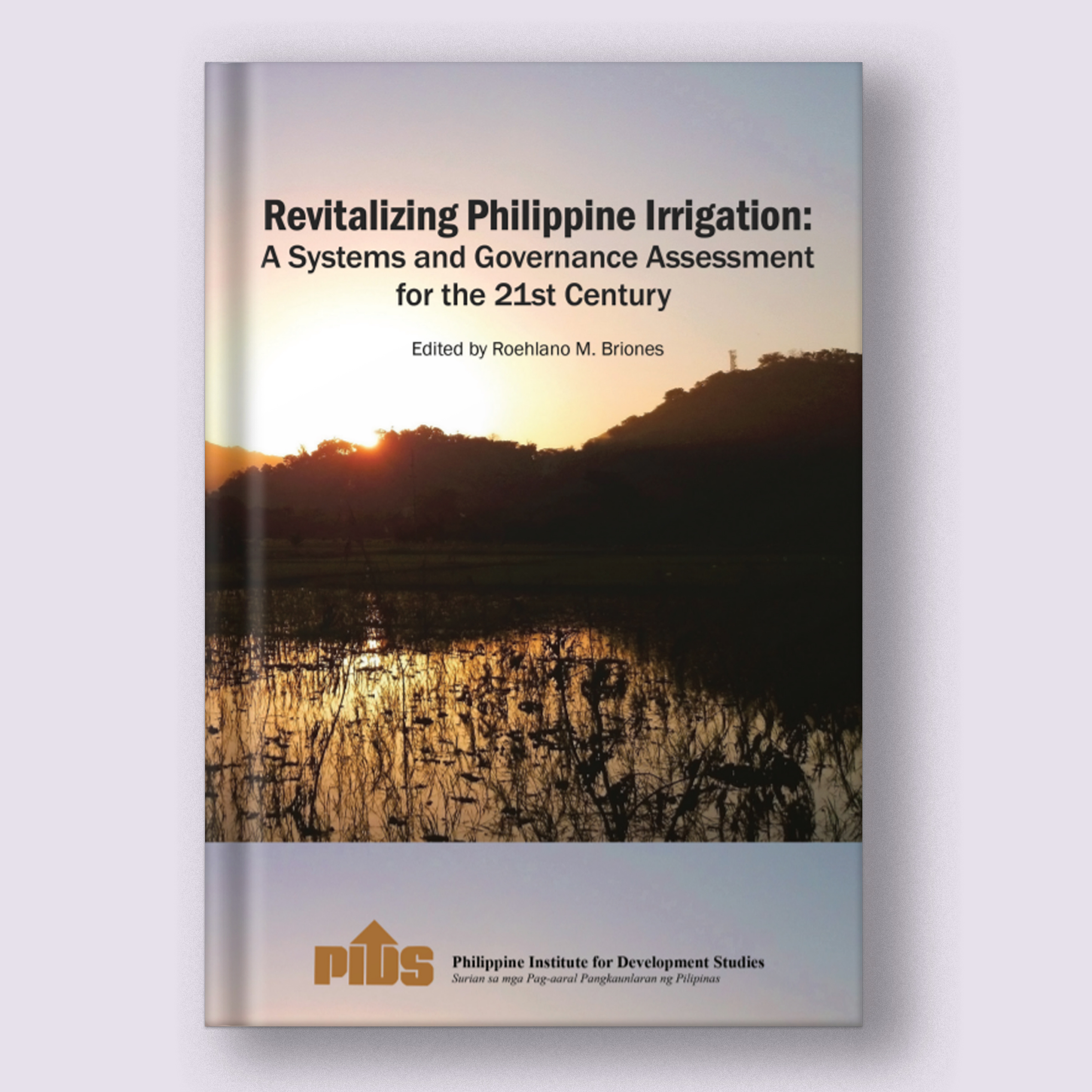 PIDS BOOK 2021-01: Revitalizing Philippine Irrigation: A Systems and Governance Assessment for the 21st Century
by Philippine Institute for Development Studies
After years of relative neglect, irrigation has again emerged as the single largest budgetary outlay in government-funded agricultural programs after the world rice price crisis of 2008. Since then, priority for irrigation and rice agriculture has been sustained over three administrations. Never has the goal of closing the gap between actual and potential irrigable area been nearer than today.
This volume has evaluated the resurgent irrigation development program to date, covering national systems, communal systems, and various program considerations, such as water resource assessment, governance issues, recent policy shifts (e.g., Free Irrigation Service Act), and benefit-cost comparison. The analysis will hopefully serve as input to the continued implementation of the irrigation development program, which, as argued earlier, has yet a long way to go. The assessment has sought to combine both field-based qualitative and ocular assessment, with state-of-the-art quantitative assessment (including hydraulic and economic modeling). Based on this assessment, the authors offer a set of practical and hopefully useful recommendations, primarily for the National Irrigation Administration, as well as for the broad set of stakeholders in the national irrigation development agenda. Click here to download the book.
RESEARCH PAPER SERIES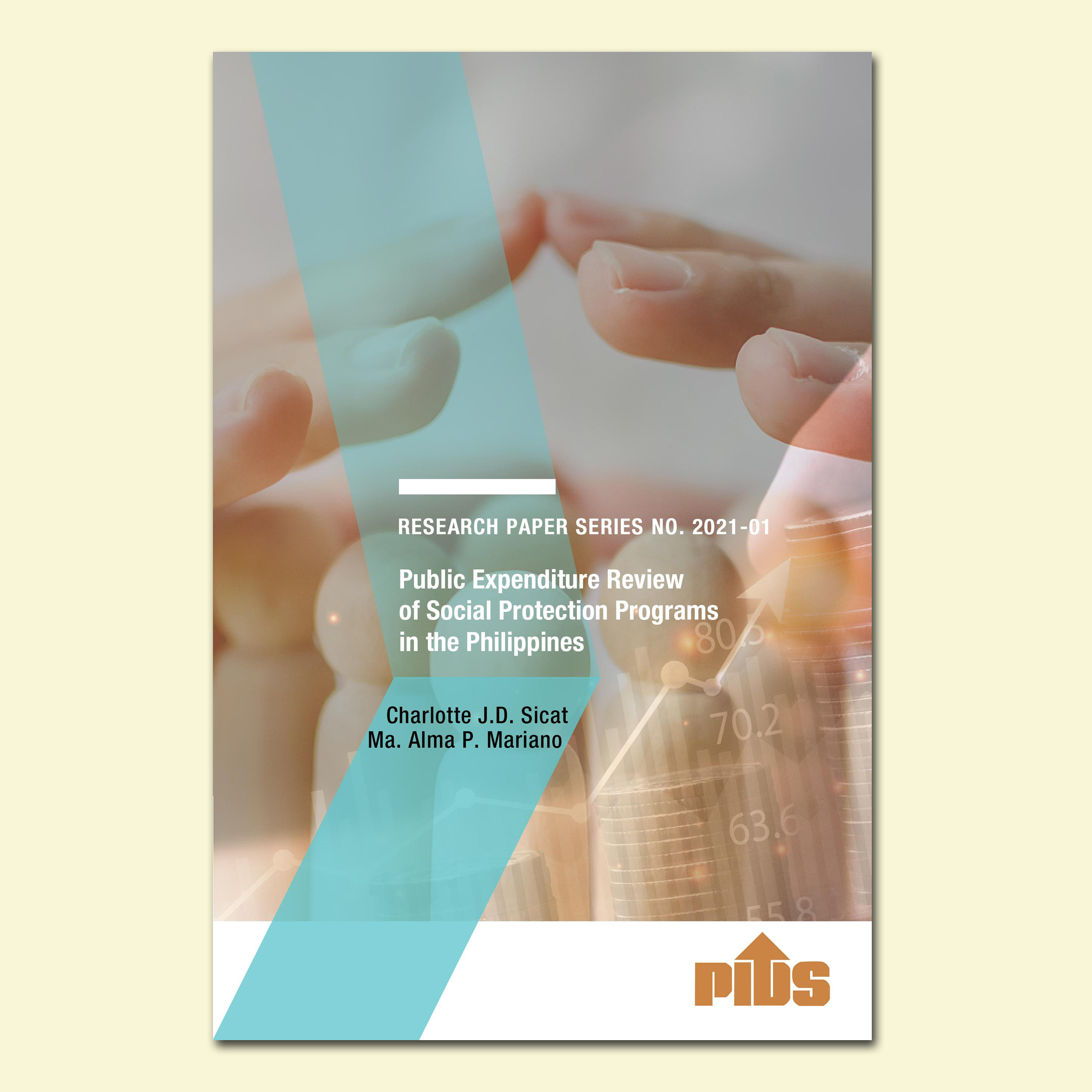 RPS 2021-01: Public Expenditure Review of Social Protection Programs in the Philippines
by Charlotte Justine D. Sicat and Maria Alma P. Mariano
In a developing country such as the Philippines, social protection is crucial in providing support to the poor and vulnerable. There has been recent progress in the design and delivery of social protection programs, owing largely to a more coherent social protection strategy and framework introduced in 2009. Efforts to consolidate programs and improve their targeting, design, and implementation are well documented. In addition, social protection programs were believed to have contributed to an observed reduction in poverty and inequality. However, more work is needed to increase the coverage, as well as improve the implementation and coherence of social protection policy. This paper aims to provide an overall view of national government social protection expenditures in the Philippines. Public expenditure trends in social protection were examined, with emphasis on selected major programs. Social protection efforts in the Philippines were compared with those in other countries and a review of existing literature on current social protection programs in the country was made to guide policymakers in rethinking either the design or the existence of these programs. The paper concluded with recent developments in social protection policy that could be continued to further the gains of social protection efforts in the last decade. Click here to download the research paper.
POLICY NOTE
PN 2021-01: What Are the Effects of the Performance-Based Bonus on Government Workers and Agencies?
by Jose Ramon G. Albert, Ronald U. Mendoza, Janet S. Cuenca, Jana Flor V. Vizmanos, and Mika S. Muñoz
To improve service delivery in the public sector and motivate workers to enhance their performance, the government has been implementing the Performance-Based Bonus (PBB) since 2012. This Policy Note looks into whether the PBB has been effective in achieving these goals. It found evidence of generally positive outcomes resulting from it, such as increased compliance on conditions for PBB access and a shared perception among over 1,200 sampled government bureaucrats that the PBB helps improve public service. The study also noted evidence of some dysfunctional behavior, including allegations that some staff are gaming the incentives. The study recommends that the government continue implementing the PBB scheme but with improvements to its design and implementation, including a moratorium on changes in PBB requirements, especially in light of the COVID-19 pandemic, provision of capacity-building support for lagging agencies, and experimentation with incentives to support sectoral development outcomes. Click here to download the policy note.
DISCUSSION PAPER SERIES

DP 2021-01: Longer-term Effects of the Pantawid Pamilyang Pilipino Program: Evidence from a Randomized Control Trial Cohort Analysis (Third Wave Impact Evaluation)
by Aniceto C. Orbeta Jr., Kris Ann M. Melad, and Nina Victoria V. Araos
This study analyzes the longer-term "lock-in" effects of time-critical program inputs on education and health outcomes for specific cohorts of Pantawid Pamilyang Pilipino Program (Pantawid) beneficiaries. The cohorts are known to benefit more from inputs received at critical points, particularly in their first 1,000 days of life and from the age-appropriate start of schooling. The data, collected from November to December 2017, covered 2,265 households with children born between April 2009 and April 2013 from the original treatment and control barangays of the first impact evaluation of the program that used a randomized control trial design. Children and mothers in the original treatment areas are presumed to have received program benefits during the critical period while children and mothers in the control areas are presumed to have received benefits beyond the critical period. Results show that timely exposure to Pantawid inputs during the first 1,000 days of life results in a lower prevalence of severe underweightedness, diarrhea, and fever among children. Positive program impact was observed for the age of start of schooling (Grade 1) and the cumulative number of years of delay in schooling. However, these results were not consistently observed in other estimations that control for confounding variables. The small impact of the program on level progression in primary school suggests that the control group was able to catch up with their counterparts in the treatment group. In general, the results of the study highlight the importance of providing program inputs together with a comprehensive package of supplementary interventions during the first 1,000 days of life to achieve significant results in health and nutrition outcomes of children. Misconceptions on the start of schooling must also be addressed to ensure that children start school on time and avoid delays in progression through grade levels. Click here to download the discussion paper.
DP 2021-02: An Analysis of Regulatory Policies on Solid Waste Management in the Philippines: Ways Forward
by Sonny N. Domingo and Arvie Joy A. Manejar
Waste management issues have been hounding both urban and rural communities for decades. The passing of Republic Act 9003, or the Ecological Solid Waste Management Act of 2000, was meant to ensure the protection of public health and environment while encouraging resource conservation and recovery and public cooperation and responsibility. Among its critical provisions were the formal devolution of waste management to local levels, including forced closure of illegal dumpsites, investment on facilities, and reduction and proper treatment of solid wastes. This study looked into the implementation of the law in both the national and subnational levels through a desk review, conduct of case studies in selected areas, and processing of available quantitative data. Results showed varying implementation templates across study sites reflecting different enabling mechanisms and replicable initiatives. Documented best practices include the legal waste facility transition of the Payatas dumpsite in Quezon City and the organization of its informal economy; the clustering of waste management service of Teresa, Rizal and its province-wide incentive mechanism and partnership with construction companies; the market linkages for revenue generation; and the strong partnership between the local government unit (LGU) and civil service organizations in San Fernando, Pampanga. The overly simplistic transfer of responsibility to LGUs have largely resulted in two decades of mediocre policy grounding. Common avenues for improvement were also identified, including the need to fast track transition timelines; augment national and local government complementation; invest on appropriate technologies and facilities; and sustain public and private sector engagements. Click here to download the discussion paper.
DP 2021-03: Policy, Institutional, and Expenditure Review of Bottom-up Approach Disaster Risk Reduction and Management
by Sonny N. Domingo and Arvie Joy A. Manejar
Republic Act (RA) 10121, or the Philippine Disaster Risk Reduction Management (DRRM) Act of 2010, has led to the passing of complementary legislation and functional policy, bureaucratic and institutional augmentations and directed government budgeting and spending. Key thematic mandates were given to national government agencies while the bulk of policy implementation, institutional grounding, and resource allocation related to DRRM were devolved to local government units, granting them fiscal and administrative authority. The policy also facilitated opportunities and invitations for participatory bottom-up approaches. However, gaps, such as on structured reporting and appraisal of DRRM budget and spending and bottom-up participation, also existed. Using mixed-methods, qualitative inputs from key informant interviews and focus group discussions, as well as quantitative data encoded from the 2015-2019 Full Disclosure Policy Portal (FDPP) of the Department of Interior and Local Government were used to provide evidence and establish narratives on how policy, institutional structures, and public investment contributed to LGU functioning and community preparedness and participation. It was found out that there were sub-optimal allocations despite the abundance of fiscal resource in both the national and subnational governments regardless of location and income levels. The highest utilization rate for which were identified in disadvantaged regions (ARMM, Region 3, Region 9). As the predominant arrangement across the DRRM landscape was still top-down, communities have much to lose due to their weak visibility in participatory governance and nearly invisible decisionmaking powers in the formulation of plans and approval of programs. While community resilience was stated to be the core of RA 10121, institutional structures still need to strengthen their enabling mechanisms for representation and stakeholder participation. Expenditures should explicitly support more community-led initiatives as well as proposals from sectoral committees, and barangay councils. Monitoring and evaluation strategies should also capture and track DRRM funds, goods and services, across agencies, fund sources, and varying enabling conditions accurately. Click here to download the discussion paper.
January 28, 2021, 2:00PM-4:30PM
Virtual Book Launch: Revitalizing Philippine Irrigation: A Systems and Governance Assessment for the 21st Century
(watch the livestream on the PIDS Facebook page)

February 11, 2021, 2:00PM-4:30PM
Assessing the Impacts of the Pantawid Pamilyang Pilipino Program
(watch the livestream on the PIDS Facebook page)
February 24, 2021, 2:00PM-4:30PM
A Labor Market Analysis of S&T Human Resource Needs in the Philippines
(watch the livestream on the PIDS Facebook page)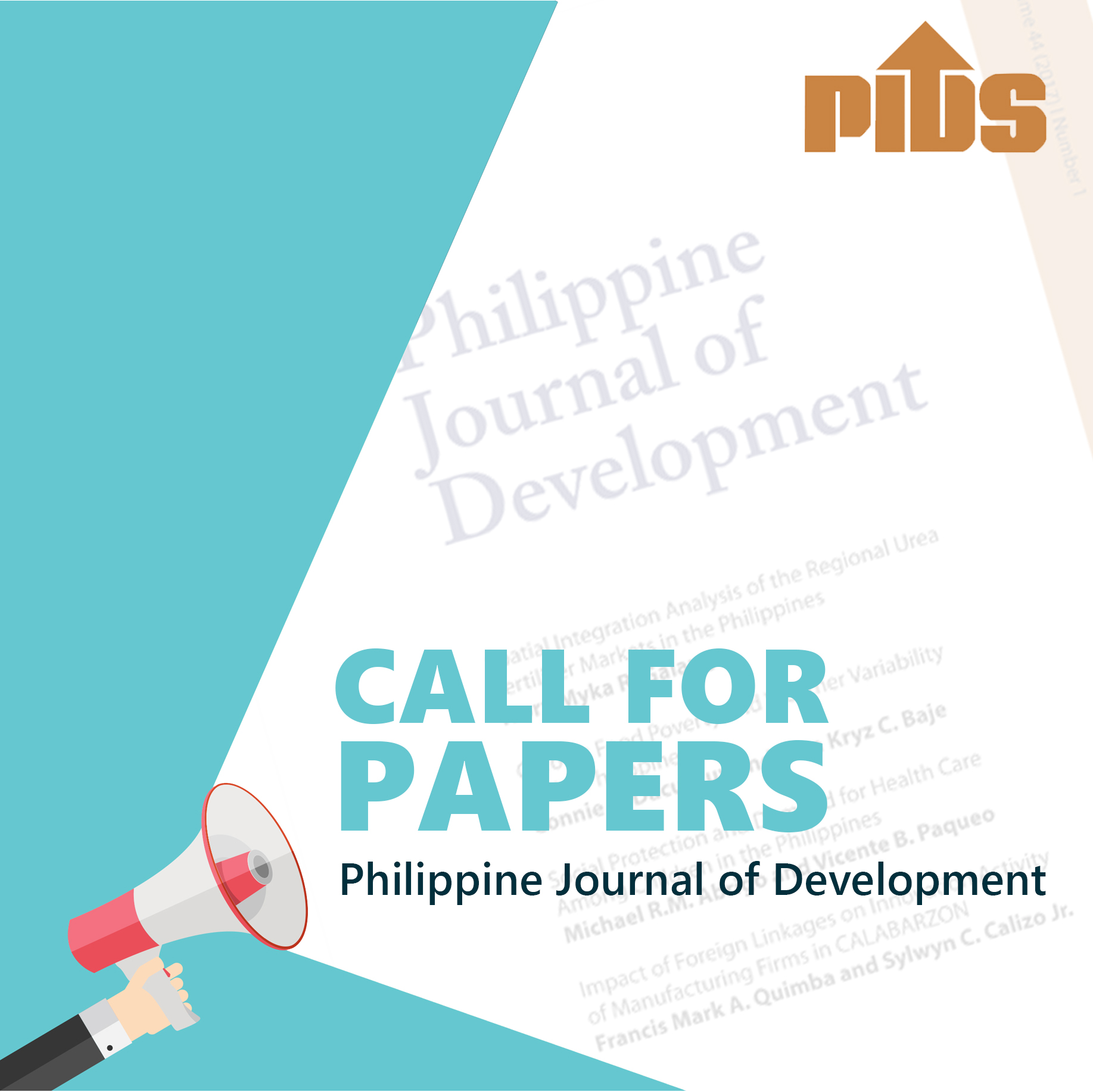 The Philippine Journal of Development is a professional journal published by the Philippine Institute for Development Studies. It accepts papers that examine key issues in development and have strong relevance to policy development. As a multidisciplinary social science journal, it accepts papers in the fields of economics, political science, public administration, sociology, and other related disciplines. It considers papers that have strong policy implications on national or international concerns, particularly development issues in the Asia-Pacific region.

CLICK HERE for the guidelines in the preparation of articles. Submissions and inquiries may be sent to PJD@mail.pids.gov.ph.
---
---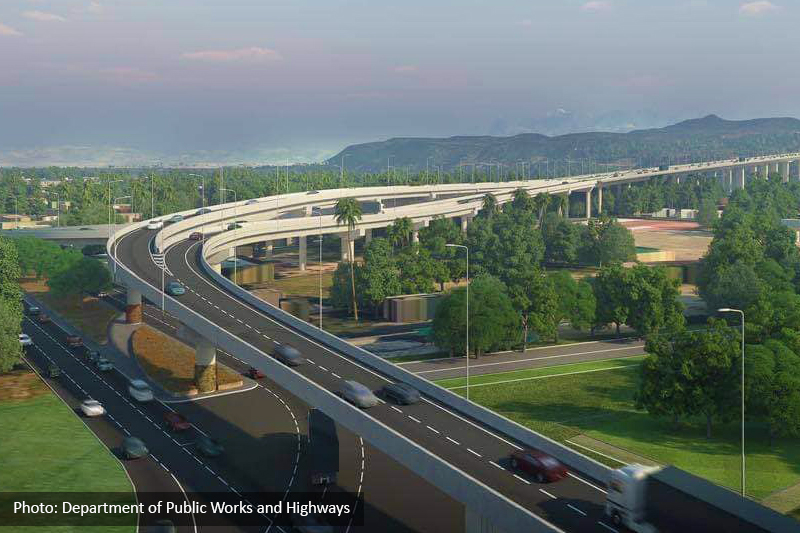 Infra Projects Under 'Build, Build, Build' Program Responsive To PH Dev't Plan--PIDS Study
Infrastructure flagship projects under the government's 'Build, Build, Build' (BBB) program are responsive to the Philippine Development Plan's (PDP) targets for 2017-2022.

This is according to a study of state think tank Philippine Institute for Development Studies (PIDS) titled "Review of the "Build, Build, Build" Program: Implications on the Philippine Development Plan 2017-2022".

Author Janet Cuenca, a research fellow at PIDS, said the BBB program is particularly responsive in the areas of "information and communications technology [ICT], transport and mobility, water resources, and power and energy". READ MORE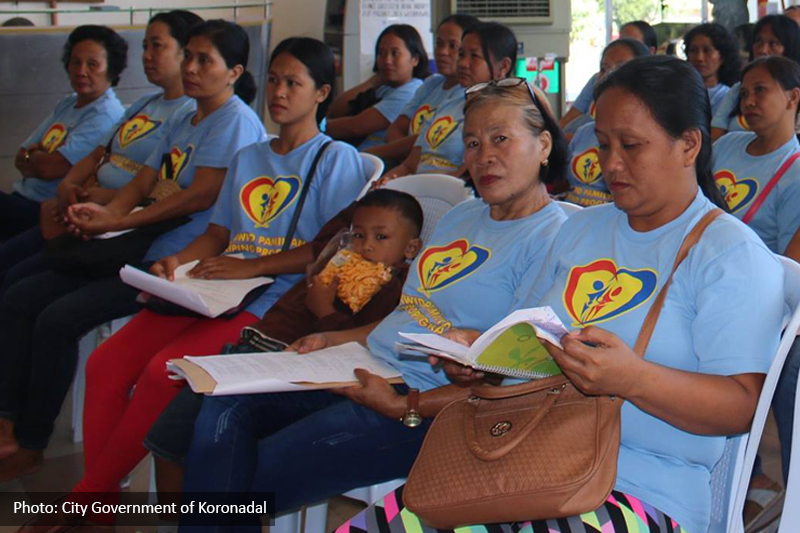 PIDS study shows 'unexpected and confounding' findings in recent 4Ps impact evaluation
A recent impact evaluation of the Pantawid Pamilyang Pilipino Program (4Ps) conducted by state think Philippine Institute for Studies (PIDS) showed mixed results.

Senior Research Fellow Aniceto C. Orbeta Jr., Research Analyst Nina Victoria V. Araos, and Supervising Research Specialist Kris Ann M. Melad held focus group discussions with program beneficiaries and nonbeneficiaries and key informant interviews with program stakeholders.

Three impact evaluations have been done so far since the program's inception in 2008.

In the most recent assessment, the third wave impact evaluation (IE3) revealed that the program has achieved significant gains in its target outcomes on education, health, and household welfare. READ MORE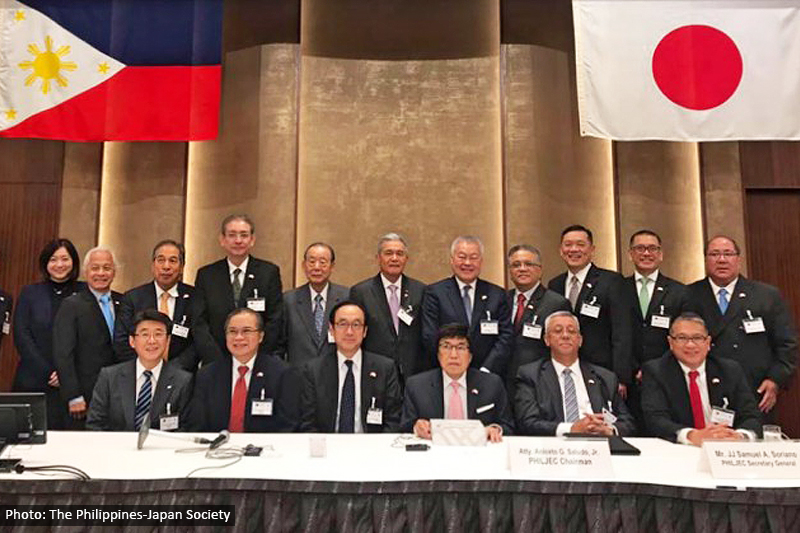 Utilization rate of PH trade agreement under PJEPA 'alarmingly low'--PIDS study
The country's free trade agreement (FTA) utilization rate under the Philippines-Japan Economic Partnership Agreement, or PJEPA, is 'alarmingly low' at 16.6 percent. This, according to a study published by state think tank Philippine Institute for Development Studies (PIDS).
Enforced in December 2008, the PJEPA is the Philippines' first bilateral trade agreement. It is undergoing review after about a decade of implementation.
Authors PIDS Senior Research Fellow Francis Mark Quimba, PIDS Supervising Research Specialist Maureen Ane Rosellon, and PIDS Research Specialist Sylwyn Calizo, Jr., said it is essential to maximize the said trade agreement as it will "pave the way for negotiations of subsequent trade agreements". READ MORE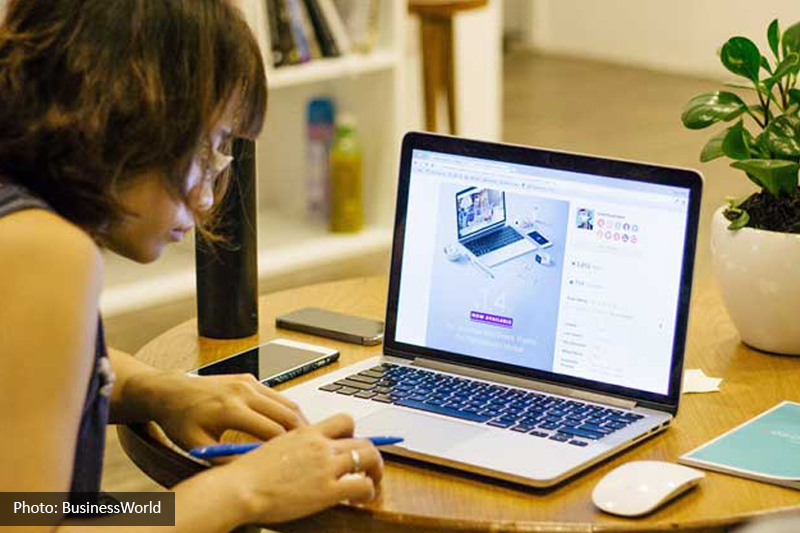 PIDS study identifies challenges in sustaining online work in PH
While digital labor platforms opened market work opportunities during the pandemic, it also posed major implications on skill formation and human capital development, especially in countries where online work is at the lower end of the value chain.
This is highlighted in a recent study of state think tank Philippine Institute for Development Studies (PIDS).
According to the study, the advancements in information and communications technology paved the way for a new work arrangement mediated by digital platforms.
As a result of these developments, certain segments of the population "may be naturally drawn to online work". READ MORE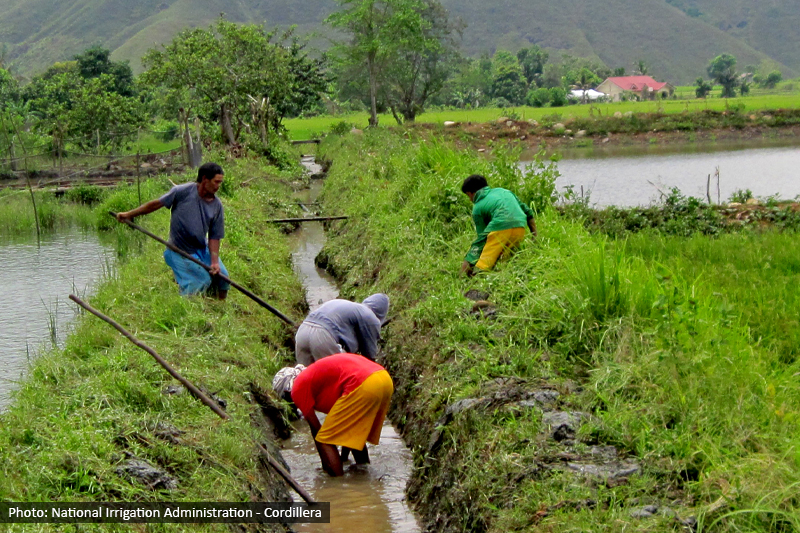 PIDS study proposes alignment of NIA's functions, staff complement with free irrigation law
The National Irrigation Administration (NIA) may need to reconfigure its functions and staff complement in line with the Free Irrigation Service Act (FISA).
This is according to the Philippine Institute for Development Studies' (PIDS) latest Research Paper Series titled "Assessment of the Free Irrigation Service Act". The study is a preliminary assessment of FISA by examining secondary data and conducting interviews and focus group discussions.
Signed into law in 2018, FISA exempts farmers with landholdings of 8 hectares or less from paying irrigation service fees (ISFs). These landholdings constitute over 98 percent of all farms/holdings in the country. READ MORE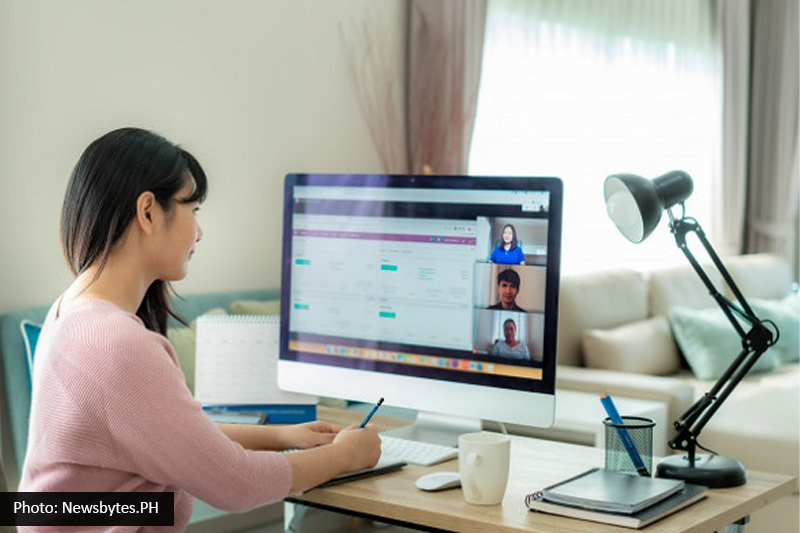 PIDS study urges gov't to 'create skills and training systems' for online workers

The government should create skills and training systems to help Filipinos make the most of the increasing demand for online jobs amid the coronavirus pandemic.
This was highlighted in the study titled "Online Work in the Philippines: Some Lessons in the Asian Context" conducted by the Philippine Institute for Development Studies (PIDS) and funded by the Asian Development Bank.
According to Connie Bayudan-Dacuycuy, Aniceto Orbeta, Ramonette Serafica, and Lora Kryz Baje, senior research fellows and research assistant at PIDS, respectively, it is important to "assess the skills of the workforce vis-a-vis the requisite skills of the target occupation and industries and create enabling environments for workers" to thrive under the 'new normal'. READ MORE